DC Heroes Batman - Hush CCXP 2022 Winter Convention Exclusive Funko Pop! Vinyl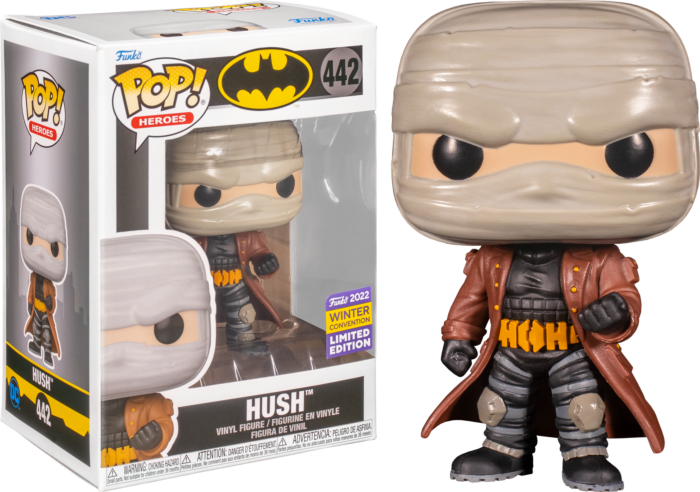 DC Heroes Batman - Hush CCXP 2022 Winter Convention Exclusive Funko Pop! Vinyl
DC Heroes Batman - Hush CCXP 2022 Exclusive Funko Pop! Vinyl
***CCXP 2022 EXCLUSIVE***
Marking the first international convention for Funko, the "Freddy's Beach Bash" event takes place from December 1 to December 4 in São Paulo.

Hush (Thomas Elliot) is a supervillain appearing in American comic books published by DC Comics. Created by Jeph Loeb and Jim Lee, the character first appeared in Batman #609 in January 2003 as part of the twelve-issue storyline Batman: Hush. Hush serves as a criminal foil to the superhero Batman and belongs to the collective of adversaries that make up his rogues gallery.

Thomas "Tommy" Elliot is a childhood friend of Bruce Wayne who attempts to murder his parents and inherit their massive fortune. His plan fails when Bruce's father, Dr. Thomas Wayne, saves his mother's life, beginning his grudge against the Waynes. Tommy grows up to become a gifted surgeon and, out of jealous resentment, allies with the Riddler to ruin Bruce's life upon discovering that he is Batman. Wrapping his face in bandages to conceal his identity, Tommy becomes a manipulative criminal mastermind called "Hush" to seek revenge against his former friend..

Buy Funko Pop Vinyl Australia Now From ryft.com.au

* CCXP Products will be dispatched within 5-7 business days of purchase.