Willow Tree by Susan Lordi - Good Cheer (Wishing you sunny days of happiness)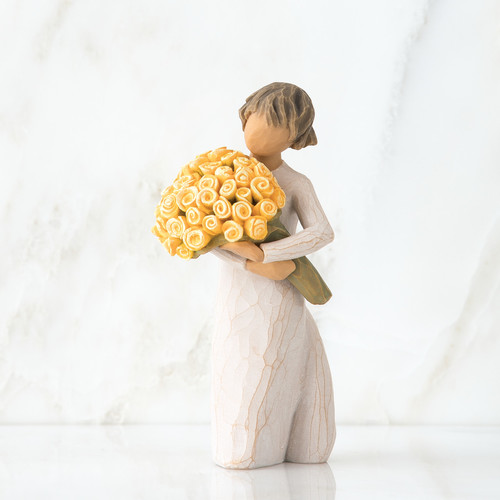 Willow Tree by Susan Lordi - Good Cheer (Wishing you sunny days of happiness)
---
Our team at Ryft are proud retailers of DEMDACO Willow Tree figurines by Susan Lordi.

Susan Lordi's creation of her Good Cheer figurine is the perfect gift to celebrate friendships, or for those who love flowers!

We often offer wishes for much happiness to those we care for and about; friendly intentions given with joy and hopefulness. Good Cheer reflects a sentiment of positive enthusiasm with its big bouquet of sunny yellow roses—symbolising friendship, optimism and well-being. It's the colour of choice for friends who have achieved a goal, need a little lift or wholehearted acknowledgement, or for those who simply brighten our day!

Dimensions: 5.5" height
---
Terms and Conditions
Orders dispatched within 5 business days. Shipping: 2-7 Business Days (depending of your location within Australia).
---
DESCRIPTION
Willow Tree by Susan Lordi - Good Cheer - Wishing you sunny days of happiness
A gift to celebrate friendships, or for those who love flowers!

We often offer wishes for much happiness to those we care for and about; friendly intentions given with joy and hopefulness. Good Cheer reflects a sentiment of positive enthusiasm with its big bouquet of sunny yellow roses—symbolising friendship, optimism and well-being. It's the colour of choice for friends who have achieved a goal, need a little lift or wholehearted acknowledgement, or for those who simply brighten our day!

Not a toy or children's product. Intended for adults only.
SPECIFICATIONS
Material: Resin, hand painted
Dimensions: 5.5" height
Sentiment: "Wishing you sunny days of happiness".
Presentation: Branded gift box includes enclosure card for gift giving.
Product Care: Dust with soft cloth or soft brush. Avoid water or cleaning solvents.