Willow Tree by Susan Lordi - Lavender Grace (May all your senses be filled with heeling grace)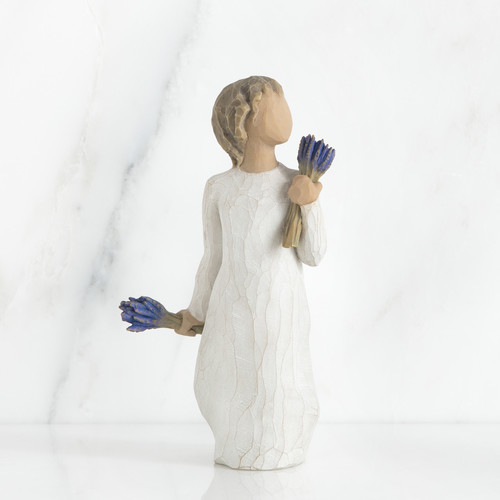 Willow Tree by Susan Lordi - Lavender Grace (May all your senses be filled with heeling grace)
---
Our team at Ryft are proud retailers of DEMDACO Willow Tree figurines by Susan Lordi.

Susan Lordi's creation of her Lavender Grace figurine is the perfect gift to comfort and encourage hope and healing... Or for those who love flowers!

"A field of lavender never fails to take my breath away. You experience lavender through all your senses – not only its aromatic fragrance, but its pure visual beauty... its form is uplifting, and the colour is gorgeous. In any garden, it's a standout. It even tastes good! Speaking as a gardener, lavender is just good for the soul – and so, it heals. I wanted this piece to be a healing piece. But it also could be seen as a piece about strength. She's looking up; her stance is strong and uplifted, like lavender. I named her Lavender Grace... perhaps she could remind you of someone who exemplifies a life of beauty and grace." —Susan Lordi

Dimensions: 5.5" height
---
Terms and Conditions
Orders dispatched within 5 business days. Shipping: 2-7 Business Days (depending of your location within Australia).
---
DESCRIPTION
Willow Tree by Susan Lordi - Lavender Grace - May all your senses be filled with healing grace
A gift to comfort and encourage hope and healing. Or for those who love flowers!

"A field of lavender never fails to take my breath away. You experience lavender through all your senses – not only its aromatic fragrance, but its pure visual beauty... its form is uplifting, and the colour is gorgeous. In any garden, it's a standout. It even tastes good! Speaking as a gardener, lavender is just good for the soul – and so, it heals. I wanted this piece to be a healing piece. But it also could be seen as a piece about strength. She's looking up; her stance is strong and uplifted, like lavender. I named her Lavender Grace... perhaps she could remind you of someone who exemplifies a life of beauty and grace." —Susan Lordi

Not a toy or children's product. Intended for adults only.
SPECIFICATIONS
Material: Resin, hand painted
Dimensions: 5.5" height
Sentiment: "May all your senses be filled with healing grace"
Presentation: Branded gift box includes enclosure card for gift giving.
Product Care: Dust with soft cloth or soft brush. Avoid water or cleaning solvents.