Willow Tree by Susan Lordi - Sanctuary (a warm safe surround of love)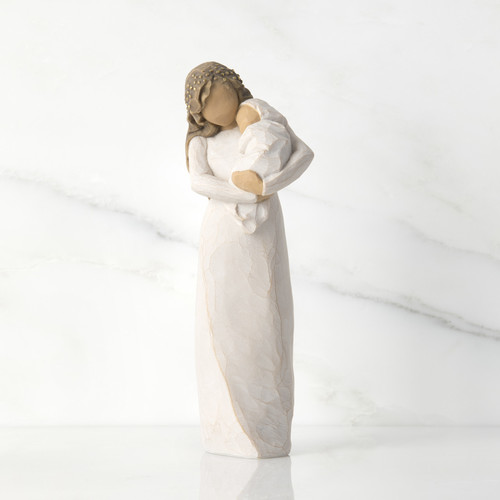 Willow Tree by Susan Lordi - Sanctuary (a warm safe surround of love)
---
Our team at Ryft are proud retailers of DEMDACO Willow Tree figurines by Susan Lordi.

Susan Lordi's creation of her Sanctuary figurine is the perfect gift of a guardian angel for Mother's Day, a new baby gift, or healing piece in times of loss.

"I like the word Sanctuary. I'm thinking of it as a safe warm space that mother and baby create by being together, quiet, peaceful. The baby feels safe and happy, and the mother is too. They're connected… content to be in a place of inner peace and joy. This can be a Guardian Angel piece as well, suggesting that your baby is being watched over, protected, and cradled in a loving embrace. In this way, Sanctuary can be a healing piece." —Susan Lordi

Dimensions: 6.7"H x 2.2"W x 2"D / 17cm H x 5.7cm W x 5cm D
---
Terms and Conditions
Orders dispatched within 5 business days. Shipping: 2-7 Business Days (depending of your location within Australia).
---
DESCRIPTION
Willow Tree by Susan Lordi - Sanctuary - A warm safe surround of love
A guardian angel for Mother's Day, a new baby gift, or a healing piece in times of loss.

"I like the word Sanctuary. I'm thinking of it as a safe warm space that mother and baby create by being together, quiet, peaceful. The baby feels safe and happy, and the mother is too. They're connected… content to be in a place of inner peace and joy. This can be a Guardian Angel piece as well, suggesting that your baby is being watched over, protected, and cradled in a loving embrace. In this way, Sanctuary can be a healing piece." —Susan Lordi

Not a toy or children's product. Intended for adults only.
SPECIFICATIONS
Material: Resin, hand painted. Applied gold leaf
Dimensions: 6.7"H x 2.2"W x 2"D / 17cm H x 5.7cm W x 5cm D
Sentiment: "A warm safe surround of love"
Presentation: Branded gift box includes enclosure card for gift giving.
Product Care: Dust with soft cloth or soft brush. Avoid water or cleaning solvents.