Willow Tree by Susan Lordi - Around You (just the nearness of you)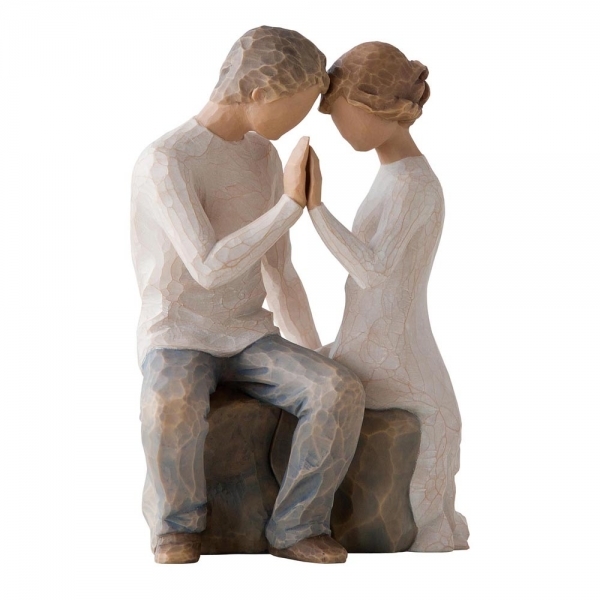 Willow Tree by Susan Lordi - Around You (just the nearness of you)
---
Our team at Ryft are proud retailers of DEMDACO Willow Tree figurines by Susan Lordi.

Susan Lordi's creation of her Around You figurine is the perfect gift for a wedding, anniversary or Valentine's Day gift that expresses love and caring.

"I wanted to sculpt a young couple, finding romantic love – the butterflies and uncertainty, the chemistry and electricity – discovered when you're in each other's presence. I wanted the piece to be tender and intimate, elegant and quiet… Since the pose is derived from dance, I also wanted it to appear to have movement as you look at different angles.My challenge was to carve completely in the round, so that from every view, you have a different understanding… you see variations. There's no correct way to position the piece.There are three touch points – their fingers on both hands, and the tops of their heads. I like this bit of connection… the tingly excitement and shared energy that comes from moments together with a new love." —Susan Lordi

Dimensions: 6.5" height
---
Terms and Conditions
Orders dispatched within 5 business days. Shipping: 2-7 Business Days (depending of your location within Australia).
---
DESCRIPTION
Willow Tree by Susan Lordi - Around you - Just the nearness of you
A wedding, anniversary or Valentine's Day gift that expresses love and caring.

"I wanted to sculpt a young couple, finding romantic love – the butterflies and uncertainty, the chemistry and electricity – discovered when you're in each other's presence. I wanted the piece to be tender and intimate, elegant and quiet… Since the pose is derived from dance, I also wanted it to appear to have movement as you look at different angles.My challenge was to carve completely in the round, so that from every view, you have a different understanding… you see variations. There's no correct way to position the piece.There are three touch points – their fingers on both hands, and the tops of their heads. I like this bit of connection… the tingly excitement and shared energy that comes from moments together with a new love." —Susan Lordi

Not a toy or children's product. Intended for adults only.
SPECIFICATIONS
Material: Resin, hand painted

Dimensions: 6.5" height

Sentiment: "Just the nearness of you"

Presentation: Branded gift box includes enclosure card for gift giving.

Product Care: Dust with soft cloth or soft brush. Avoid water or cleaning solvents.