Willow Tree - Anniversary (Love ever endures)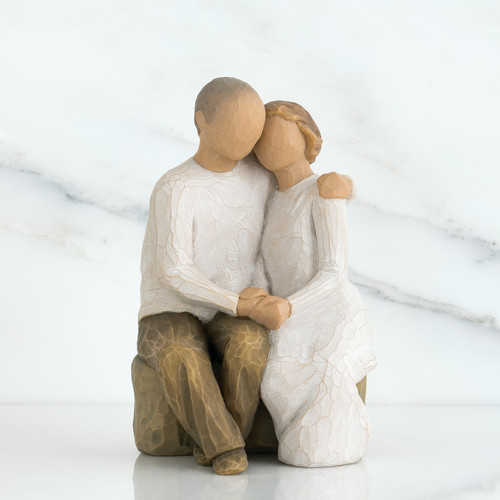 Willow Tree - Anniversary (Love ever endures)
---
Our team at Ryft are proud retailers of DEMDACO Willow Tree figurines by Susan Lordi.

Susan Lordi's creation of her Anniversary figurine is the perfect gift of a wedding, anniversary or Valentine's Day gift that expresses love and caring.

"I sculpted this piece using my parents as models. When I asked them to sit down and get comfortable, they just seemed to fit together so perfectly. It was such a self-directed pose, as though they've been doing it for years — and they have! They celebrated their 60th wedding anniversary in 2011. The carving on the back is a little added discovery …. 'I love thee'. I like the sound of the word 'thee'. It feels poetic and intimate to me." –Susan Lordi

Dimensions: 6" height
---
Terms and Conditions
Orders dispatched within 5 business days. Shipping: 2-7 Business Days (depending of your location within Australia).
---
DESCRIPTION
Willow Tree by Susan Lordi - Anniversary - Love ever endures
A wedding, anniversary or Valentine's Day gift that expresses love and caring. 

"I sculpted this piece using my parents as models. When I asked them to sit down and get comfortable, they just seemed to fit together so perfectly. It was such a self-directed pose, as though they've been doing it for years — and they have! They celebrated their 60th wedding anniversary in 2011. The carving on the back is a little added discovery …. 'I love thee'. I like the sound of the word 'thee'. It feels poetic and intimate to me." –Susan Lordi

Not a toy or children's product. Intended for adults only.
SPECIFICATIONS
Material: Resin, hand painted
Dimensions: 6" height
Sentiment: "Love ever endures"
Presentation: Branded gift box includes enclosure card for gift giving.
Product Care: Dust with soft cloth or soft brush. Avoid water or cleaning solvents.