Willow Tree by Susan Lordi - Warm Embrace (surrounded by the warmth of family and friends)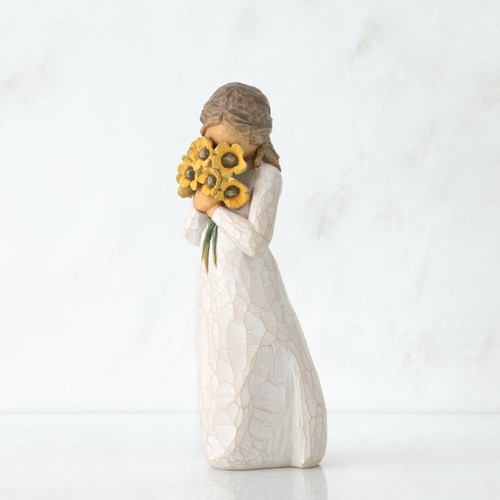 Willow Tree by Susan Lordi - Warm Embrace (surrounded by the warmth of family and friends)
---
Our team at Ryft are proud retailers of DEMDACO Willow Tree figurines by Susan Lordi.

Susan Lordi's creation of her Warm Embrace figurine is the perfect gift for someone to feel surrounded by the warmth of family and friends.

"Warm Embrace is about what fills our senses in the summer - the feel of sunshine on your skin, the smell of freshly mown grass, the sound of insects, the taste of home - grown tomatoes - all that comes with summer. A warm embrace by family and friends can somehow, magically, provide these same sensations... no matter what time of year." - Susan Lordi

Dimensions: 5.5"H x 2"W x 2"D / 14cm H x 5cm W x 5cm D


---
Terms and Conditions
Orders dispatched within 5 business days. Shipping: 2-7 Business Days (depending of your location within Australia).
---
DESCRIPTION
Willow Tree by Susan Lordi - Warm Embrace - Surrounded by the warmth of family and friends
The figure of a lady holding a bouquet of flowers. A gift to celebrate friendships, or for those who love flowers!

"Warm Embrace is about what fills our senses in the summer - the feel of sunshine on your skin, the smell of freshly mown grass, the sound of insects, the taste of home - grown tomatoes - all that comes with summer. A warm embrace by family and friends can somehow, magically, provide these same sensations... no matter what time of year." - Susan Lordi

Not a toy or children's product. Intended for adults only.
SPECIFICATIONS
Material: Resin, hand painted
Dimensions: 5.5"H x 2"W x 2"D / 14cm H x 5cm W x 5cm D
Sentiment: "Surrounded by the warmth of family and friends"
Presentation: Branded giftbox includes enclosure card for gift giving.
Product Care: Dust with soft cloth or soft brush. Avoid water or cleaning solvents.