Ad Icons - Green Giant & Sprout Metallic US Exclusive Pop! Vinyl 2-pack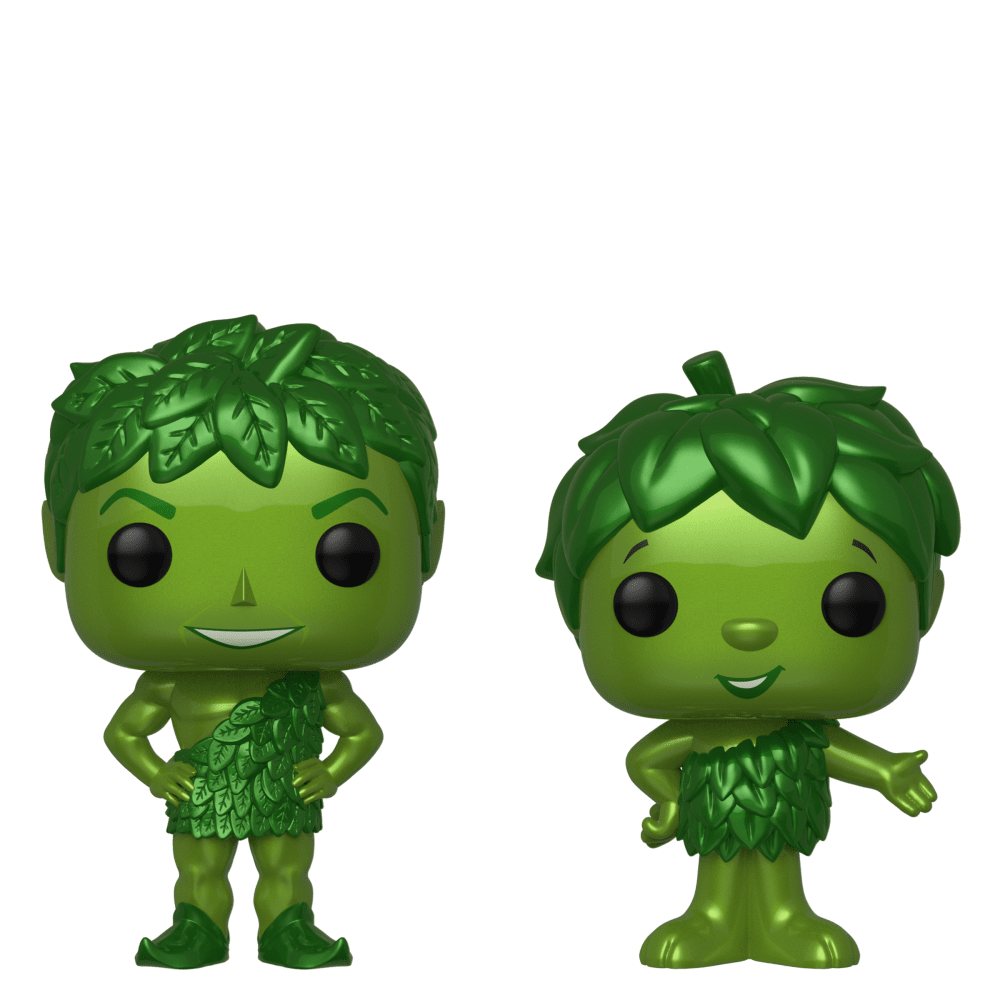 Ad Icons - Green Giant & Sprout Metallic US Exclusive Pop! Vinyl 2-pack
B&G Foods - Jolly Green Giant & Sprout Metallic Pop! Vinyl Figure 2-Pack

It seems Funko have paid a visit to "The Valley of the Jolly Green Giant" and found the infamous B&G mascots known as the Jolly Green Giant and the Little Green Sprout. Unlike the giant who lives at the top of the beanstalk, these guys are family friendly and won't want to eat you, instead they'll provide some delicious food for your Funko collection.

Here we have the EXCLUSIVE Jolly Green Giant himself, who was designed to promote B&G's "giant green peas". Wearing his iconic leafy suit and sporting his usual jolly smile, he's the perfect addition to Funko's Ad Icons line. However why stop there? Also available is B&G's Little Green Sprout, who since 1972 has been the apprentice of the Jolly Green Giant. They come with a stunning (and shiny) Metallic finish!

Discounted Pop Vinyls! and clearance Pop Vinyls! are supplied as is, and no refunds will be accepted. They maybe shop soiled, in most cases they are as new. Any concerns please request a photo.

Buy Now Pop Vinyls in Australia @ ryft.com.au

Terms and Conditions
Orders dispatched within 5 business days. Shipping: 2-7 Business Days (depending of your location within Australia).
B&G Foods - Jolly Green Giant & Sprout Metallic Pop! Vinyl Figure 2-Pack It seems Funko have paid a visit to "The Valley of the Jolly Green Giant" and found the infamous B&G mascots known as the Jolly Green Giant and the Little Green Sprout. Unlike the giant who lives at the top of the beanstalk, these guys are family friendly and won't want to eat you, instead they'll provide some delicious food for your Funko collection. Here we have the EXCLUSIVE Jolly Green Giant himself, who was designed to promote B&G's "giant green peas". Wearing his iconic leafy suit and sporting his usual jolly smile, he's the perfect addition to Funko's Ad Icons line. However why stop there? Also available is B&G's Little Green Sprout, who since 1972 has been the apprentice of the Jolly Green Giant. They come with a stunning (and shiny) Metallic finish!