Willow Tree - Sweetheart (You have a sweet heart!)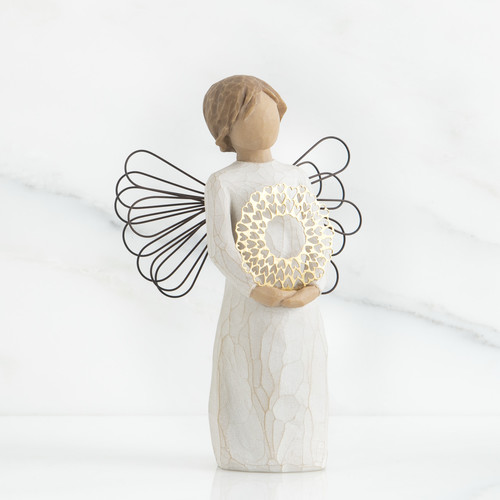 Willow Tree - Sweetheart (You have a sweet heart!)
---
Our team at Ryft are proud retailers of DEMDACO Willow Tree figurines by Susan Lordi.

Susan Lordi's creation of her Sweetheart figurine is the perfect gift for a birthday or Valentine's Day gift that expresses love and caring, or a sweet friendship piece for a loved one.

"I like working with patterning and pierced metal. The wreath has always been a symbol of hospitality and welcome, and this wreath is kind of decorative - it's light and lacy and feminine. The sentiment is light - hearted... It's a little endearment; a way to say thank you, or let someone know she's special." - Susan Lordi

Dimensions: 5.2"H x 3.5"W x 2.3"D / 13cm H x 9cm W x 6cm D
---
Terms and Conditions
Orders dispatched within 5 business days. Shipping: 2-7 Business Days (depending of your location within Australia).
---
DESCRIPTION
Willow Tree - Sweetheart - You have a sweet heart
A birthday or Valentine's Day gift that expresses love and caring, or a sweet friendship piece for a loved one.

"I like working with patterning and pierced metal. The wreath has always been a symbol of hospitality and welcome, and this wreath is kind of decorative - it's light and lacy and feminine. The sentiment is light - hearted... It's a little endearment; a way to say thank you, or let someone know she's special." - Susan Lordi

Not a toy or children's product. Intended for adults only.
SPECIFICATIONS
Material: Resin with metal wings and metal gold leaf wreath, hand painted
Dimensions: 5.2"H x 3.5"W x 2.3"D / 13cm H x 9cm W x 6cm D
Sentiment: "You have a sweet heart!"
Presentation: Branded giftbox includes enclosure card for gift giving.
Product Care: Dust with soft cloth or soft brush. Avoid water or cleaning solvents.